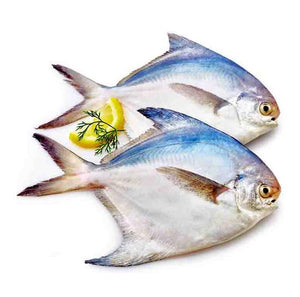 MeatMachli.com
Pomfret (whole) 500 Gms ( 4 piece )
Regular price
Rs. 499.00
Rs. 0.00
Unit price
per
Pomfret

 

fish, are high in Omega 3 fatty acids, which are heart-friendly.
 Pomfret

 

are excellent sources of protein that are low in fat.
 As per the various studies, fishes even in small quantities, it can have a significant positive impact in improving the quality of dietary protein by complementing the essential amino acids that are often present in low quantities in vegetable-based diets. 
Pomfret

 

fish is high in Vitamin D. 
It does actually contains minerals such as iron, zinc and calcium in it.
The protein in fish is of high quality, which contains amino acids, and is very digestible.
---