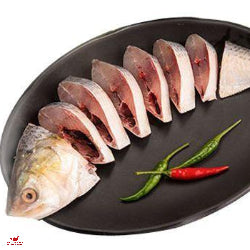 MEATMACHLI.COM
Rohu Fish (w/o Eggs) 800 Gms
Regular price
Rs. 309.00
Sale price
Rs. 350.00
Unit price
per
Rohu is enriched with a handsome amount of protein. Packed with Omega 3 fatty acids and vitamins A, B, and C. You should eat Rohu at least once a week.
Knowledge Centre:

The Rohu (Labeo rohita) is a freshwater fish of the carp family Cyprinidae that is also commonly called the Ruee, Rui or Tapra.
Good quality.
Fishes were good in quality. Pieces were good too but no 'peti' piece was included.
---